Textpattern CMS support forum
Textpattern Resources Logo & Icons Design Contest
We are currently working on a redesign of the Textpattern Resources site with a goal of completing it for the Fall CSS Reboot effort. In order to complete the redesign, we'd like to solicit the help of the Textpattern community in the form of a little contest. The contest will have 2 parts: logo design and icon design. Both contests have a submission deadline of September 9, 2005. Please submit your entries to admin [at] textpattern [dot] org.
The logos will be posted on the Textpattern Resources site for comments after the submission deadline but the winner or winners will be picked by Alicson and myself. You can enter one or both of the contests as many times as you'd like. The more the merrier. If you don't want your submission posted, just let us know.
The winner or winners will receive all the fame and glory associated with an appearance on the About page of the site which receives over 130,000 visits per month and rising.
Logo Contest
The only restrictions on logo submissions are that they use colors from the palette below. Please submit your entry in .gif or .png format. We may ask the winner to make slight adjustments to their design based on size restrictions which are TBD.
Icon Contest
Icons should again use the color palette below. We're looking for a series of icons to represent the following:
Plugins
Mods
Tutorials
Templates
Help
Home
at least 2 general use bullets
You can optionally include icons for the following:
About
Sitemap
Archives
Feeds
Links
You're welcome to make up your own additional icons as well if you think they'll be helpful.
Color Palette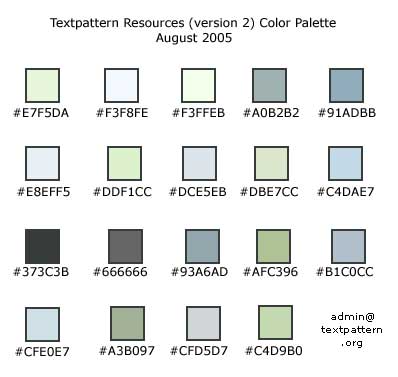 Thanks and good luck! Feel free to post or email any questions.
Re: Textpattern Resources Logo & Icons Design Contest
hm. broken out into little swatches like that, it does look a bit muted, but most of them are just shades off the others. i think the design comes out a bit on the bright side, actually. but we'll see.
*edit: if deadline seems tight it's because we want to start building the site and the logo and icons are of course integral to the overall. if you really want to contribute but you feel you can only get a partial submission in by that deadline, then talk to us about it. we'd like to include anyone who's interested.
Last edited by alicson (2005-08-30 04:01:00)
Member

From: Lawrence, KS

Registered: 2004-05-05

Posts: 238
Re: Textpattern Resources Logo & Icons Design Contest
Any ideas about what you want stylistically? Photorealistic icons, "cartoonish", etc.?
Re: Textpattern Resources Logo & Icons Design Contest
exercise artistic license. what would you like to see on the site? i'm not sure how often this redesign thing is going to happen for the Resources site, so think about what you wouldn't mind having up for a possibly long long time. ;)
Member

From: Coimbatore, India

Registered: 2005-01-19

Posts: 283
Re: Textpattern Resources Logo & Icons Design Contest
I have the same doubt. I think you should narrow down your requirements to a specific style. What if each individual comes up with a different style? What if you have to choose the logo of one designer and the icons of another designer? The styles have to match right?
In my opinion, the contests should be held separately. Logo design should come first and based on the logo we can come up with icons.
The Color palette and the nature of the website define the expected style to a certain extent. But it's still better if we come up with the logo first. What Say?
---
"Take a point, stretch it into a line, curl it into a circle, twist it into a sphere, and punch through the sphere."
— Albert Einstein
Member

From: Netherlands

Registered: 2005-01-19

Posts: 255
Re: Textpattern Resources Logo & Icons Design Contest
I'll see if I've time to make a logo…don't expect too much of it, because I'm the best in it…but I'll give it a try :-)
But I also need to know what style of logo you want. Otherwise, a lot of people submit their logo, and then it doesn't match with the site design. Hmm…
Last edited by JoeyNL (2005-08-30 05:37:13)
Member

From: tuvalahiti

Registered: 2004-04-22

Posts: 741
Re: Textpattern Resources Logo & Icons Design Contest
two ideas I sketched out which I won' t have time to develop (and they might be crap ideas anyway)
TXP

with the X being crossed chisels in a circle or stone slab ("resources" smaller underneath, with possibly prostrate chiseller)
existing Textpattern text logo with "

RESOURCES

" underneath in a tab (rendered a la txp admin style) just overshadowing it
this is like putting your junk outside your house for the annual council clean-up and hoping someone has use for the battered toaster and 15 year old kettle
Re: Textpattern Resources Logo & Icons Design Contest
Simon Collison gave 11 days for his simplified standards logo contest and received 64 submissions so we thought this was reasonable.
I can see an argument for holding off on the icons until a logo is chosen however. If you want to submit them now thats fine, but there's a possibility the icon deadline could be extended. If in doubt, submit logo designs first.
New Member

From: South Florida

Registered: 2005-08-24

Posts: 5
Re: Textpattern Resources Logo & Icons Design Contest
Can you tell us at what physical size the icons should be submitted at? 50×50? 25×25?